Show us your SMILE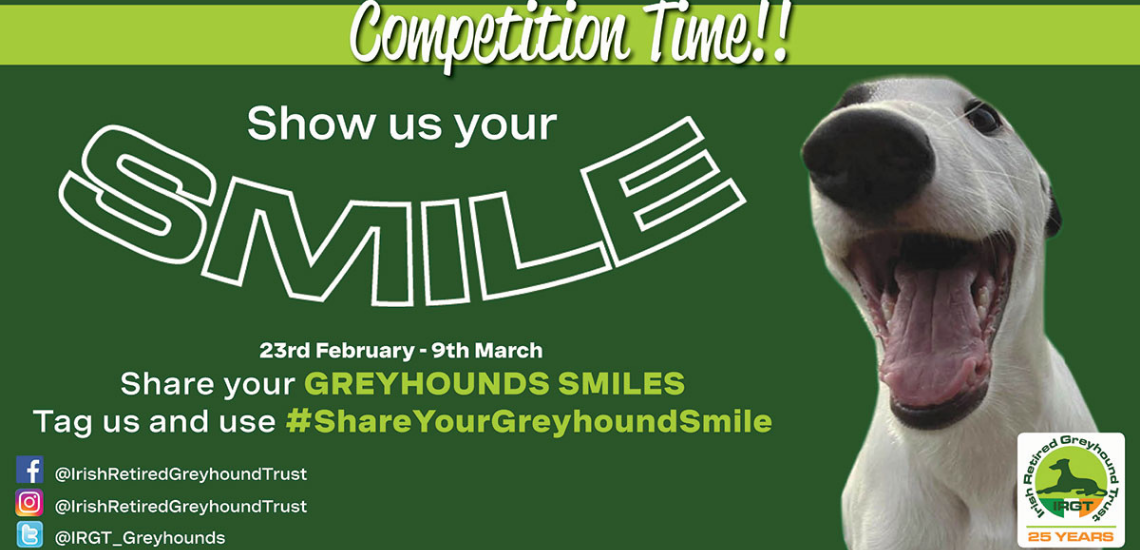 Show us your SMILE Competition!
To celebrate Greyhound Dental Health Awareness Month, we've got a special competition for you. It's an opportunity for all Greyhounds to show off their lovely smiles. Three lucky winners will receive an IRGT hamper of goodies for you and your greyhound.
To enter the competition, you just have to share a picture of your Greyhound's smile on social media (Facebook, Instagram or Twitter), tag us (see our @ handles below) and use hashtag #ShowUsYourGreyhoundsSmile.
Facebook : @IrishRetiredGreyhoundTrust  www.facebook.com/greyhoundsaspets.rgt.IRL
Instagram: @IrishRetiredGreyhoundTrust
Twitter: @IRGT_Greyhounds
As an added bonus, first 25 entries will receive a free IRGT Toothbrush for their greyhound. Once you've posted your entry, private message us your contact details with address to receive your free IRGT toothbrush. 
Competition runs from Wednesday, 23rd February until Wednesday, 9th March.
On Monday the 13th of March three lucky winners will be announced.
Good luck to all participants!
T&C's apply: The social post must be public (so that we can see your entry) and please include Greyhounds name and age. Judges decision is final and winners will be notified via the social media platform that they used to enter.
Please note that all entries may be used by the Irish Retired Greyhound Trust and Greyhound Racing Ireland on their website and social media channels for promotion of the competition. 
All contact details provided for the free toothbrushes and prizes will be used for the purpose of sending the prizes only and will be deleted once dispatched.
Here are all beautiful smiles submissions we received!
Competiton is now closed!
We've seen so many wonderful smiles, now it's up to judges to choose or 3 lucky winners who will receive a wonderful hamper of goodies!

Thank you all for your entries, we have loved seeing them all.

The 3 lucky winners will be announced on Friday 11th March.

Don't forget the Smiles Competition was part of our Dental Health Awareness Month celebrations. If you haven't already, head to our website now to learn more about Greyhound Dental Health https://bit.ly/3JE4sik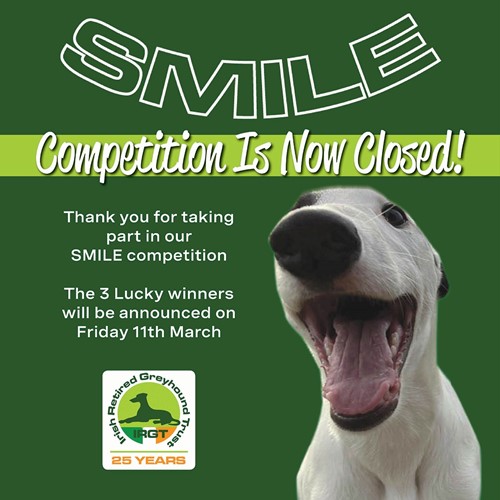 𝗔𝗻𝗱 𝗦𝗠𝗜𝗟𝗘 𝗰𝗼𝗺𝗽𝗲𝘁𝗶𝘁𝗶𝗼𝗻 𝘄𝗶𝗻𝗻𝗲𝗿𝘀 𝗮𝗿𝗲 !
Thank you for your submissions and for taking part in our Smiles Competition. There was so many wonderful entries but there can only be 3 winners.
Congratulations

 
, the lucky winners are:
1. Joni and ower Fiona O'Farrell
2. Thorvi and owner Alexandra Vermeir
3. Lapanen and owners Reia & Jouni Kiiski